The human foot is very complex. With a unique cushioning mechanism, it provides stability, speed and maneuverability with support on the heels. This is the most important part of the foot, which bears a lot of stress. The special structure of the bone and the thick layer of soft tissue allow us to walk comfortable. But if there is pain in the foot, this is an extremely unpleasant sensation. It can be stabbing, aching, sharp, intermittent or constant. The frequency of heel pain occurrence is difficult to determine. Many people, periodically experiencing pain, prefer to endure it or treat themselves without going to a doctor and undergoing heel pain treatment in the clinic.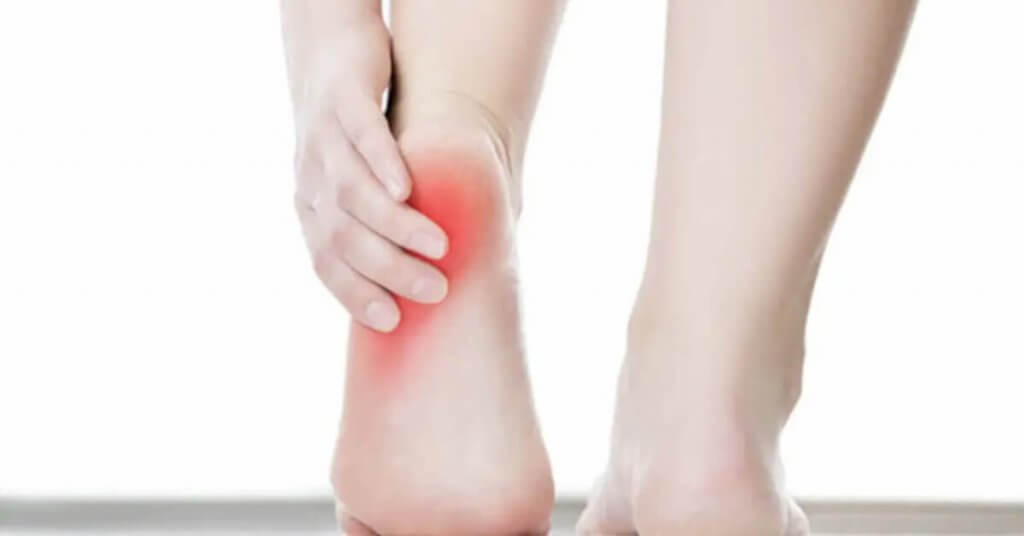 First of all, with heel pain, it is necessary to exclude dangerous diseases that require urgent heel pain treatment. Therefore, the first specialist to consult for this condition is a surgeon.
Diseases which can provoke heel pain:
Heel spur or plantar fasciitis;
Bursitis;
Haglund deformation;
Tarsal tunnel syndrome;
Heel turberculosis;
Osteomyelitis;
Reactive arthritis;
Osteochondropathy;
Epiphysis;
Diabetic angiopathy;
Gout;
Bruises;
Stretching;
Inflammation of the tendons;
Cracks.
In Orlando Medical Center "Touch of Health", the examination is carried out according to specific plan of heel pain treatment. The doctor asks in detail about the complaints, specifying their nature, type and localization of pain. Furthermore, he examines the affected area. 
Operational treatment quickly and permanently removes the cause of heel pain. Modern surgery is based on minimally invasive outpatient techniques with minimal trauma and a short recovery period.
In case of injuries, as a rule, conservative treatment is carried out with help of bandages, correctors of blood microcirculation, correctors of bone and cartilage metabolism. For autoimmune causes of heel pain, basic therapy drugs, NSAIDs, glucocorticoids are recommended.
Operational treatment of heel pain is used for fractures of the calcaneus with displacement, as well as in severe cases of diseases of the musculoskeletal system. The indications are:
Tendon rupture;
Neglected heel spur;
Bursitis that could not be treated conservatively.
Operational treatment quickly and permanently removes the cause of heel pain. Modern surgery in Orlando is based on minimally invasive outpatient techniques with minimal trauma and a short recovery period.
Complete a full heel examination at our center and get a prognosis for your recovery.
Our specialists help you to recover much faster.
My mom had her wrist broken and was in so much pain, I was very worried. So I took her to the doctor at Neo Medical Group at once. He examined her hand, and told us that the best solution for an injury now is Joint Reconstruction. The price of this treatment is surprisingly low, and they took good care of my mom there. She feels great and is thankful to your professional doctors.
Wonderful doctor Curtis L. Beauregard. Clearly explains what he can do to improve function and what cannot be done. Easy manner, listens well.
Dr. Tyrance took amazing care of my knee, which was my second operation on this knee. We spoke about treatment plan, my goals and what it would take to get there. I would not be enjoying the quality of life I enjoy today, if not for this caring and skillful surgeon! Thank you Dr. Tyrance!
I was treated like a human and not just shuffled thru like most other places. I appreciate the staff greatly. My respects to Dr. Beauregard.
Dr. Patrick Tyrance is awesome! He is caring, patient and honest! He has impacted my life in many ways since I've met him. I went in for a PRP injection and the procedure has changed my life. His staff was very welcoming, respectful, and made me feel comfortable. I am truly grateful for Dr. Tyrance along with his staff!
For the last 5 years I had been suffering from acute pain in the elbow. My grandson decided to take me to the trusted doctor to check if it is an injury or what exactly. In Neo Medical Group, they told me that due to my age I have a severe condition which needs to be treated with Arthroscopic Debridgement of the Elbow. And this treatment really helped, I never felt better.
Great Facility!! Amazing staff!! Won't be disappointed


Car accidents are often the cause of various injuries. After such, a patient undergoes a specific course of auto accident injury treatment, followed by a recovery program in our clinic Touch of Health to ensure speedy recovery. We specialize in providing medical care for such conditions as:
Whiplash
Spinal and extremity injuries;
Musculoskeletal system traumas;

Multiple traumas can result in chronic pain in the heel after an accident, sharp and shooting pain in your neck, back, extremities and joints, muscle atrophy, decreased immunity, general weakness. We choose the most efficient program to help the patient to recover even from the most critical conditions such as a heel injury after an accident. Our medical staff has proven its expertise and qualification over the years in car injury treatment. Touch of Health is well-known for its high standards and impressive reputation among the medical specialists and patients.
Our center is located near these locations:

Pine hills, Downtown, Winter garden, Metrowest, Altamonte, Apopka, Ocoee, Windermere, Doctor Phillips, Belle isle, Pine castle, Edgewood , Baldwin Park, College park, Millenia, Winter park, Goldenrod, Altamonte Springs, Maitland, Casselberry, Azalea, Oviedo, Lake Mary.