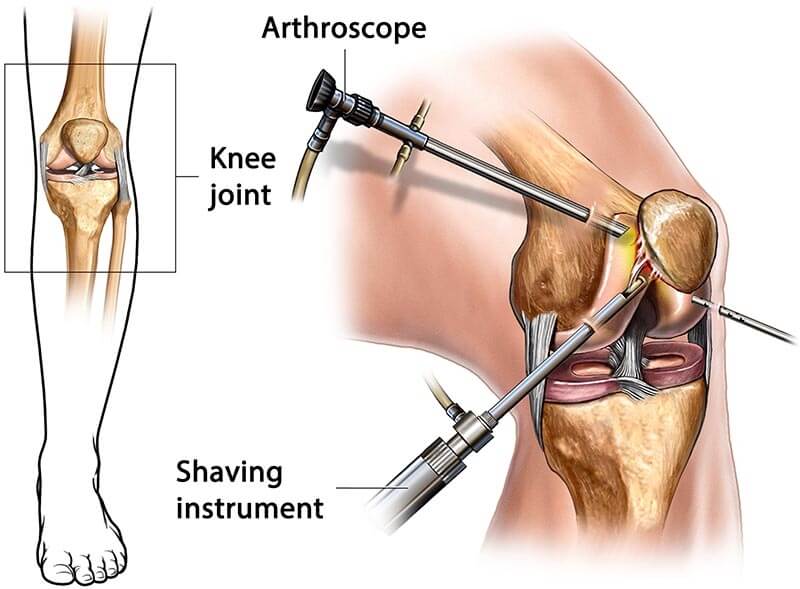 Arthroscopy is an endoscopic operation used for the detailed diagnosis and surgical treatment of various joint injuries. Highly informative visual technique allows high-quality examination and treatment of the joint in a closed way, using puncture portals, which significantly reduces the degree of surgical trauma, minimizes pain and significantly reduces the recovery period.
Knee Arthroscopy is performed by surgery using specialized, modern fiber optics built into the arthroscope. In the process, you get pain relief services, after which an internal study of bone and cartilage tissues, menisci, tendons, muscles, ligaments, connective tissue elements, synovial fluid is performed.
Treatment is prescribed for:
torn ligaments and tendons;
suspected dislocation of the calyx;
availability of free bodies in the cavity;
inflammation of the synovial membrane;
aseptic necrosis of the head of the articular bone;
injuries, degenerative-dystrophic diseases of the meniscus;
Arthroscopy in Orlando is performed by our unique surgeons to the fullest extent of compliance with measures and competence. Full recovery occurs in about a month, all this time you will follow the recommendations given to you by our specialists.
Make an appointment with us for a consultation and we will definitely help you.
Our center is located near these locations:
Pine hills, Downtown, Winter garden, Metrowest, Altamonte, Apopka, Ocoee, Windermere, Doctor Phillips, Belle isle, Pine castle, Edgewood , Baldwin Park, College park, Millenia, Winter park, Goldenrod, Altamonte Springs, Maitland, Casselberry, Azalea, Oviedo, Lake Mary.
Spine and Orthopedic Specialists
Complete a full examination at our center and get a prognosis for your recovery.
Our specialists help you to recover much faster.
My mom had her wrist broken and was in so much pain, I was very worried. So I took her to the doctor at Neo Medical Group at once. He examined her hand, and told us that the best solution for an injury now is Joint Reconstruction. The price of this treatment is surprisingly low, and they took good care of my mom there. She feels great and is thankful to your professional doctors.
Wonderful doctor Curtis L. Beauregard. Clearly explains what he can do to improve function and what cannot be done. Easy manner, listens well.
Dr. Tyrance took amazing care of my knee, which was my second operation on this knee. We spoke about treatment plan, my goals and what it would take to get there. I would not be enjoying the quality of life I enjoy today, if not for this caring and skillful surgeon! Thank you Dr. Tyrance!
I was treated like a human and not just shuffled thru like most other places. I appreciate the staff greatly. My respects to Dr. Beauregard.
Dr. Patrick Tyrance is awesome! He is caring, patient and honest! He has impacted my life in many ways since I've met him. I went in for a PRP injection and the procedure has changed my life. His staff was very welcoming, respectful, and made me feel comfortable. I am truly grateful for Dr. Tyrance along with his staff!
For the last 5 years I had been suffering from acute pain in the elbow. My grandson decided to take me to the trusted doctor to check if it is an injury or what exactly. In Neo Medical Group, they told me that due to my age I have a severe condition which needs to be treated with Arthroscopic Debridgement of the Elbow. And this treatment really helped, I never felt better.
Great Facility!! Amazing staff!! Won't be disappointed