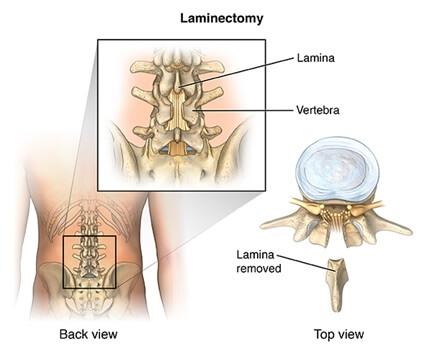 Laminectomy is the surgical removal of a portion of bone tissue from a person's vertebral disc in order to release a pinched nerve fiber. Otherwise, this procedure is called open decompression. It is performed in cases where conservative treatment, physiotherapy and other methods have proved ineffective. Laminectomy is an extreme measure in an attempt to release the nerve root on any part of the spine.
Before treatment by any method, it is necessary to determine the nature of the pathology as accurately as possible. Spine disease can occur at any age, being a congenital factor, a consequence of another disease or injury.
You are being examined by a surgeon who fixes the curvature of the spine visually.
Confirmed the damaged vertebrae with x-rays. For a more accurate diagnosis and visual confirmation, magnetic resonance imaging is used.
Ultrasound scanning of the soft tissues of the spine allows you to see the accumulation of fluids or inflammation next to the latter.
An important aspect of diagnosis is epiduroscopy. During this procedure, the epidural space of the spine is studied, which allows you to visually observe all pathological growths on the vertebrae, as well as the condition of the yellow ligaments. This study is performed through endoscopic instruments inserted through the skin.
Laminectomy is performed using various methods, depending on the condition of the spine, the group of vertebrae, the severity and form of the pathology:
Removing the arches of the 1st vertebra is called a hemilaminectomy.

During an interlaminar laminectomy, the yellow ligament is cut and the arches of the damaged vertebra are removed.

In total the operation are removed and the pedicles of the vertebra, and spinous processes.

In bone-plastic laminectomy, the removed parts of the vertebra are replaced with artificial overlays.
A laminectomy is a surgical operation. And depending on the method of penetration to the vertebrae, it has different types:
In some cases, penetration is carried out through the skin and soft tissues on the back.
The cervical vertebrae can open through the left or right side of the neck.
According to a number of indications, the surgeon can enter the lumbar spine through the abdominal cavity.
The choice of the method of penetration depends on which side of the spine is damaged or on which side the nerve root is pinched.
Laminectomy in Orlando is performed strictly by experienced and professional medical professionals. You can be absolutely sure that only the best surgeons of the center are engaged in your treatment. Make an appointment with us today and don't put it off until tomorrow to avoid future complications.
Our center is located near these locations:
Pine hills, Downtown, Winter garden, Metrowest, Altamonte, Apopka, Ocoee, Windermere, Doctor Phillips, Belle isle, Pine castle, Edgewood , Baldwin Park, College park, Millenia, Winter park, Goldenrod, Altamonte Springs, Maitland, Casselberry, Azalea, Oviedo, Lake Mary.
Spine and Orthopedic Specialists
Complete a full examination at our center and get a prognosis for your recovery.
Our specialists help you to recover much faster.
My mom had her wrist broken and was in so much pain, I was very worried. So I took her to the doctor at Neo Medical Group at once. He examined her hand, and told us that the best solution for an injury now is Joint Reconstruction. The price of this treatment is surprisingly low, and they took good care of my mom there. She feels great and is thankful to your professional doctors.
Wonderful doctor Curtis L. Beauregard. Clearly explains what he can do to improve function and what cannot be done. Easy manner, listens well.
Dr. Tyrance took amazing care of my knee, which was my second operation on this knee. We spoke about treatment plan, my goals and what it would take to get there. I would not be enjoying the quality of life I enjoy today, if not for this caring and skillful surgeon! Thank you Dr. Tyrance!
I was treated like a human and not just shuffled thru like most other places. I appreciate the staff greatly. My respects to Dr. Beauregard.
Dr. Patrick Tyrance is awesome! He is caring, patient and honest! He has impacted my life in many ways since I've met him. I went in for a PRP injection and the procedure has changed my life. His staff was very welcoming, respectful, and made me feel comfortable. I am truly grateful for Dr. Tyrance along with his staff!
For the last 5 years I had been suffering from acute pain in the elbow. My grandson decided to take me to the trusted doctor to check if it is an injury or what exactly. In Neo Medical Group, they told me that due to my age I have a severe condition which needs to be treated with Arthroscopic Debridgement of the Elbow. And this treatment really helped, I never felt better.
Great Facility!! Amazing staff!! Won't be disappointed


Spine and Orthopedic Specialists is a modern and well-equipped medical center. Our specialization is traumatology and orthopedics. The doctors are highly-qualified professionals which are well-known in their field. We provide full diagnostics, medical treatment and physical therapy for different types of injuries including sport and car traumas. Our orthopedic center provides a full specter of diagnostic methods like x-ray and MRI. We care about our patients and are ready to help at any time.